Meet Dr. Aaron Brening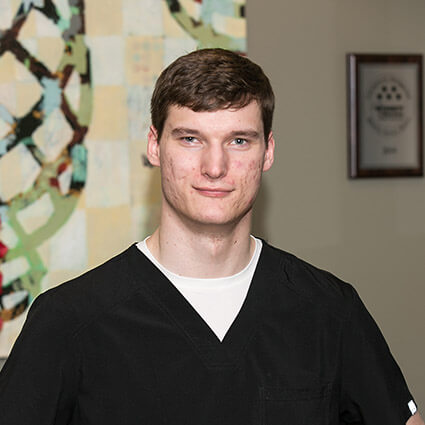 Growing up in the Minneapolis suburbs, Dr. Brening went to the UMN originally to pursue a bachelor's in physics while contracted with the Air Force through their ROTC program. He sustained a back injury that required surgery which resulted in a medical discharge from that contract.
Choosing the Chiropractic Path
Dr. Brening earned a Bachelor of Science in Kinesiology after swapping career paths upon his return to school. "I decided to become a chiropractor after having a positive post-surgery recovery experience that included chiropractic care."
He earned his Doctor of Chiropractic from Northwestern College of Chiropractic in 2020.
Joining the ChiroRx Chiropractic & Wellness Care Team
Dr. Brening moved to Grand Forks to work alongside Dr. Berg as an associate chiropractor. "His chiropractic philosophy and his desire to share it with the community and beyond paired with his willingness to teach and support new doctors was extremely attractive."
For Dr. Brening, one of the most rewarding and frustrating aspects of working with individuals is how everyone responds differently due to the complexity of the body. "Seeing their mood, their movement, and even their lives change for the best from natural care is the most rewarding aspect of my job."
Natural Care for Every Age & Stage
"At every phase of our lifespan, from birth and certainly into adulthood and beyond we experience physical stresses that can and will add up." Dr. Brening recommends chiropractic care to offset that wear and tear and maintain joint health while minimizing degeneration. "Chiropractic can help us maintain mobility for our whole lives."
In His Spare Time
Always mindful of the importance of practicing what he preaches, Dr. Brening maintains his physical health through weight training and biking. As he grew up with a strong interest in technology, he spends much of his free time playing PC games with friends back home. He also enjoys other media viewing such as movies, streams and anime shows.
Contact our Grand Forks practice today to book an appointment with Dr. Brening!

Dr. Aaron Brening | (701) 746-7979